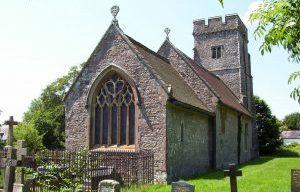 It is said that during the Second World War some soldiers serving in France wanted to bury a friend and fellow soldier who had been killed. Being in a foreign country they wanted to ensure their fallen comrade had a proper burial.
They found a well-kept cemetery with a low stone wall around it, a picturesque little Catholic church and a peaceful outlook. This was just the place to bury their friend. But when they approached the priest he answered that unless their friend was a baptised Catholic he could not be buried in the cemetery. He wasn't.
Sensing the soldiers disappointment the priest showed them a spot outside the walls where they could bury their friend. Reluctantly they did so.
The next day the soldiers returned to pay their final respects to their fallen friend but could not find the grave. "Surely we can't be mistaken. It was right here!" they said. Confused, they approached the priest who took them to a spot inside the cemetery walls. "Last night I couldn't sleep" said the priest. "I was troubled that your friend had to be buried outside the cemetery walls, so I got up and moved the fence."
…
Sumber : https://storiesforpreaching.com/category/sermonillustrations/values/