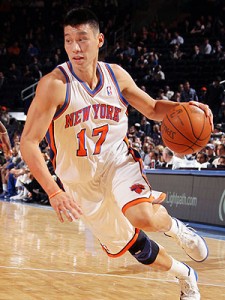 Jeremy Lin, a Harvard graduate, is a professional basketball player for the New York Knicks who just over this past week has exploded in popularity due to his spectacular start. Before this, he had been cut by a couple of teams and have basically been a bench warmer but due to some luck (teammate injuries/family obligations), the coach was essentially forced to put him in the game and that's when all of this "Linsanity" started to happen.
It isn't just the fact that he's scored more points in his first 4 games as a starter than any other player in their first 4 games since 1976 that has people cheering for this guy but also the fact that he was the underdog, the player that teams overlooked, even in his college days, and didn't expect much out of, as well as the fact that even with this skyrocketing fame in the sports world, he's super humble, always giving credit to his teammates. And okay, part of it is because he's Asian but he's definitely not the first Asian to play in the NBA.
Although luck gave him the opportunity, it was years of hard work, determination, and perhaps knowing that this was his only chance to prove to the world what he is capable of doing that allowed him to do well. He didn't have the natural talent that most teams were looking for so he didn't really stand out but he offset that by working hard at honing his skills while waiting for the opportunity to come.
"Luck is what happens when preparation meets opportunity."
Who knows how long this streak will last but it's great to see someone who is giving hope to dreamers and inspiring others to become more.
Source : https://www.motivationalwellbeing.com/linspiration.html