Wanting to partially rebuild his house, a Japanese removed a wooden wall. Japanese houses normally have empty space inside the walls. While removing some woods, the man came across a lizard stuck inside due to a nail plugged its feet to the wood.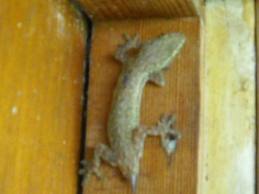 The man felt pity for the lizard. Observing the nail, he knew that the poor lizard was plugged there when the house was built, i.e. since 10 years ago. He was so curious, "What has happened? The lizard has been this way in an empty space in the wall for the whole 10 years without moving anywhere because it was stuck. It is an extremely strange thing, almost unreal." He temporarily stopped working, sat in a corner of the house observing the lizard, wondering how it could find any food to survive. A moment later, appeared from an unknown place another lizard—holding some food in its mouth—crawled towards the stuck lizard. The man wondered whether the new lizard was kin to the stuck one or were they in the same family.
However, it had brought food there for the whole ten years long, never tired, never giving up hope! And if this Japanese did not break the wall, how long this loving care would continue?
In a society of plenty communication advances, the closeness and communication among human beings have been faster and faster, easier and easier. However, the "space" between human beings appears . . . further every day. Don't leave lonesome those you love!
CINTA SEEKOR KADAL
Ketika hendak merenovasi rumah, dimana rumah di Jepang biasanya memiliki ruang kosong diantara tembok yang terbuat dari kayu. Ketika tembok mulai rontok, dia menemukan seekor kadal terperangkap diantara ruang kosong itu karena kakinya melekat pada sebuah paku.
Dia merasa kasihan sekaligus penasaran. Lalu ketika dia mengecek paku itu, ternyata paku tersebut telah ada di situ 10 tahun lalu ketika rumah itu pertama kali dibangun.

Apa yang terjadi? Bagaimana anak kadal itu dapat bertahan dengan kondisi terperangkap selama 10 tahun??? ,dalam keadaan gelap selama 10 tahun, tanpa bergerak sedikitpun, itu adalah sesuatu yang mustahil dan tidak masuk akal.
Orang itu lalu berpikir, bagaimana kadal itu dapat bertahan hidup selama 10 tahun tanpa berpindah dari tempatnya sejak kakinya melekat pada paku itu!
Orang itu lalu menghentikan pekerjaannya dan memperhatikan kadal itu, apa yang dilakukan dan apa yang dimakannya hingga dapat bertahan.
Kemudian, tidak tahu darimana datangnya, seeko kadal lain muncul dengan makanan di mulutnya……..
Orang itu merasa terharu melihat hal itu. Ternyata ada seekor kadal lain yang selalu mem perhatikan kadal yang terperangkap itu selama 10 tahun. Sungguh ini sebuah cinta…cinta yang indah . Cinta dapat terjadi bahkan pada hewan yang kecil seperti dua ekor kadal itu. Apa yang dapat dilakukan oleh cinta? Tentu saja sebuah keajaiban.
Bayangkan, kadal itu tidak pernah menyerah dan tidak pernah berhenti memperhatikan pasangannya selama 10 tahun. Bayangkan bagaimana hewan yang kecil itu dapat memiliki karunia yang begitu mengagum kan.
Kisah Nyata Dari Jepang
Source : https://www.fairybookshelf.com/cms/index.php