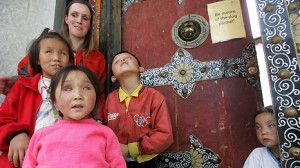 Her childhood
When Ms. Tenberken was only 2, her parents learned that she would gradually lose her sight. Recalling those early years, she said she kept banging into things, without knowing why. Before her total blindness, her parents had taken her to museums, traveled extensively and filled her eyes with colors. "I have all my visual images in my head," she said. By age 13, she was completely blind.
On one trip to Nepal with her mother, Sabriye spent a brief time in Tibet and learned the sad fact about the Tibetan blinds. In this place, the blinds are viewed as having been cursed at birth and are treated like lepers. There were no training facilities for blind children; and if their families were poor, they were left on the street or kept alone in their rooms without any teaching, diversions, or stimulation. Her brief experience in Tibet developed a burning desire in Sabriye to teach Tibet's blind children that they can have full lives, that they do not need to be ashamed or handicapped and that they can live to the fullest like her.
In university, she majored in Asian languages with the goal of going to Tibet. She was the only blind student in the program, and Tibetan had not been translated into Braille. Since Braille materials and computer software for language study in these languages are limited, Tenberken ended up creating her own Braille system for writing Tibetan script.
Hands for the blinds in Tibet
Her first trip to Tibet, in 1994, ended quickly. She came down with altitude sickness and had to fly home.
Undeterred, she returned for good in 1998.Travelling alone, she promised to herself that she would help blind children learn to read and write using her Tibetan Braille alphabet. She wanted these children to be integrated into regular schools once they became literate.
When she presented her plans to local officials in Tibet, everyone thought she was crazy. She had then tried to get a job with different international aid groups, but was told that blind people like her were barred from doing "field work."
Tired of being reminded of what she cannot do, she traveled by road to Lhasa, where she was determined to found a school. An accomplished horsewoman, she risked her life by riding on horseback over some of the most mountainous terrain in the world to find her blind pupils.
She went on to raise funds, get official Chinese permission for her school, and find suitable premises and staff. None of it was easy, but the school ultimately was opened and became an instant success. Then the funding dried up due to bureaucratic problem back in Germany.
With one teacher and six students, they were quickly evicted from their first building for lack of money while the government insisted she leave the country immediately. Though discouraged, Tenberken rallied her forces and, after a torturous overland journey to Nepal and a visit to Germany, had found ways to continue her school.
Her school
Her school put a lot of emphasize on being able to be independent and living a normal life. When she was a student in a leading German high school for the blind, Sabriye had learned to ride horses, ski downhill and cross-country and kayak in white water.
She has therefore adopted a similar philosophy for teaching her Tibetan students, ages 4 to 21. They had gone white-water rafting, and are planning to climb a nearby Himalayan peak next year. Her school also emphasizes living skills like cooking, hygiene and self-reliance. It also teaches computer skills and Tibetan, Chinese and English language. Training is also offered in careers like massage therapy and music.
Current Plan
She and her sighted partner, Mr. Kronenberg currently plan to open a second Braille Without Borders program in northern India. Mr. Kronenberg, an engineer by training, is also trying to develop a lighter, less expensive Braille machine.
Financing, however, still remains a juggling act. The monthly budget for the entire program is $1,900. Proceeds from her memoir, "My Path Leads to Tibet," helped buy the current building, while the rest of her funding comes from various donors from people in Germany, the Netherlands and Switzerland.
Source : https://yourlifeisgreat.blogspot.com/2008/10/braille-without-borders.html